PIM Parallel IO
PMC Interface Module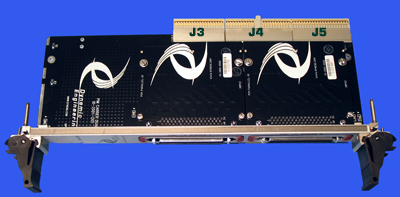 2 PIM's Mounted onto the Carrier Board
The PIM-Parallel-IO facilitates rear panel IO in cPCI based systems using PMC's. The PIM-Parallel-IO provides the PMC-Parallel-IO front panel IO where rear panel IO is desired. The PIM-Parallel-IO can be used with other PMCs as well.

The PIM-Parallel-IO is part of the PMC family of modular I/O components. The purpose of the PIM-Parallel-IO is to facilitate rear panel IO. A PIM Carrier is mounted to the underside of the backplane. The Pn4 [PMC] IO is passed through the backplane connectors to the PIM Carrier and to the installed PIM devices. Most PIM Carriers have two PIM sites which correspond to the two PMC's mounted to the host card. The PIM (PMC Interface Module) carrier supports the flexible PIM scheme for PMC rear I/O.

When installed the PIM-Parallel-IO will recreate the PMC-Parallel-IO front bezel IO in the rear compartment of the chassis [under the backplane]. All of the 64 IO connections are routed to the 68 pin SCSI II connector. The signals are routed through 10 ohm resistors to provide signal damping. Alternate values can be implemented if desired.

The PIM specification provides for power and ground references. The ground reference is used to tie into internal planes used as references for the signals routed across the PIM. The Bezel, Connector and connections are the same as the PMC-Parallel-IO to allow the same cables to be used on the front panel bezel or the PIM bezel. The only exception being the signals on pins 1, 35 of the SCSI connector which are not available on the Pn4 connector. All 64 IO are available. Two signal grounds are provided. Please refer to the tables in the manual for the connector definitions.

Pins 1 and 35 are fused power providing up to 500 mA @ 5V for user requirements.

For custom versions please contact Dynamic Engineering.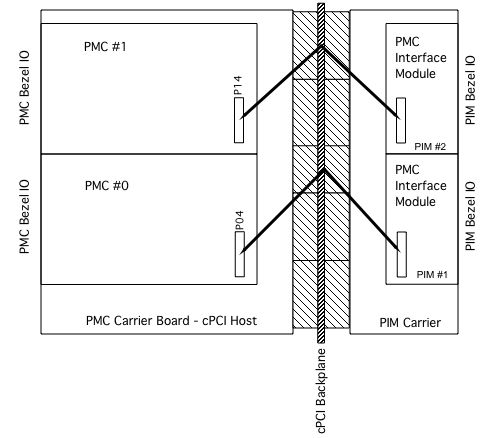 Ordering Information
PIM_Parallel_IO Package
To order a "complete system" you will need:
2 PIM's
1 PIM Carrier
2 PMC Parallel IO's
Specifications subject to change without notice.
Quantity discounts available


PIM

PIM Carrier Board
2 position cPCI compatible PIM Carrier Board



Manual
Download the PIM-Parallel-IO Manual in Adobe Acrobat PDF format. Updated 3/1/01


Related Products
PMC Parallel IO 64 digital IO lines to one slot of your carrier board
HDEcabl68 SCSI II/III Cable
HDEterm68 SCSI II/III to 68 pin terminal block


Try before you buy program




Custom, IP, PMC, XMC, PCIe, PCI, cPCI, PC104p, VME, VPX Hardware, Software designed to your requirements











Home | News | Search the Dynamic Engineering Site