PIM-Carrier-Dual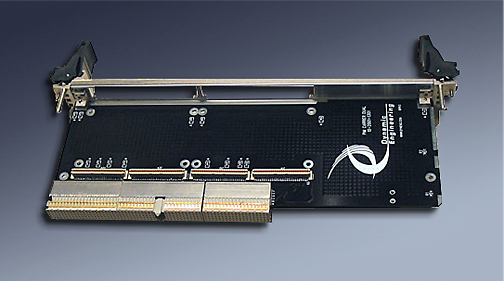 PCI = Peripheral Card Interconnect
PMC = PCI Mezzanine Card
PIM = PMC I/O Module

For clean wiring installations, using rear IO is the best choice.
If you need to have PMC IO on the rear of your chassis then the PIM-Carrier-Dual will work for you.

The PMC Carrier routes the PMC IO from P04/P14 to J3/J5. The PIM-Carrier-Dual routes the IO from J3/J5 to the two PIM positions. The PIMs route the IO to the bezel providing the equivalent of PMC front bezel IO on the rear of the chassis. The PIM can match the pinout of the front bezel IO to allow for common cables to be used for front and rear IO. Alternate connectors and pinouts can also be used.

In production Dynamic Engineering can make an integrated PIM Carrier with PIMs to reduce cost and add flexibility. Please contact Dynamic Engineering engineering@dyneng.com for custom PIMs and integrated PIM carriers.

PIM-Carrier-Dual is compatible with the cPCIBPMC6UET two position extended temperature PMC carrier. Some carriers use alternate Pin definitions. Please check that the PIM-Carrier-Dual will properly interconnect with your carrier. Please download the Pin List PDF to see if the PIM-Carrier-Dual matches your intended cPCI carrier board.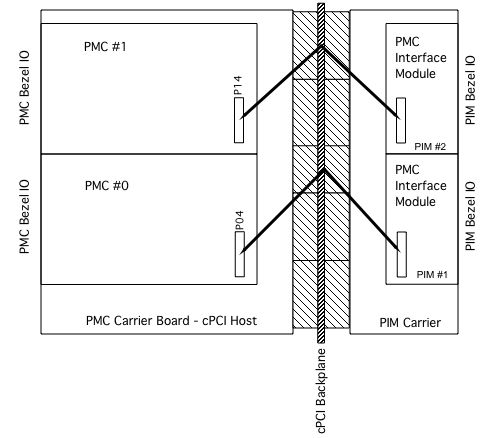 Ordering information
PIM Carrier Host





Related Products
PIM specific to PMC Parallel IO Design PIM Parallel IO
PIM with 1:1 Pn4 to PIM connector plus fused power and ground PIM Universal IO
PMC Parallel IO 64 digital IO lines in PMC format
HDEcabl68 SCSI II/III Cable
HDEterm68 SCSI II/III to 68 pin terminal block


Try before you buy program




Custom, IP, PMC, XMC, PCIe, PCI, cPCI, PC104p, VME, VPX Hardware, Software designed to your requirements











Home | News | Search the Dynamic Engineering Site