VME-6U-COOL
Keep Your Hardware Cool
Fan board with up to 12 positions
"Zero Slot Fans"™ available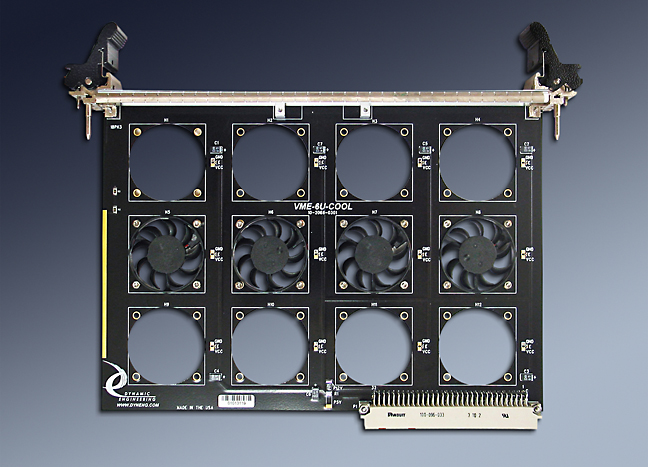 VME 6U Cool board shown with 4 "Zero Slot Fans"™ installed

VME-6U-COOL has 12 positions for Fans to be mounted. In a chassis with adequate side wall venting all of the positions can be filled. For a chassis with sealed side walls and lid at most 6 positions should be filled to allow for air re-circulation. The fans can be mounted to blow from the back to the front [Forward] or from front to back [Reverse].

The"Zero Slot Fans"™ are designed for low intrustion on either side of the PCB. .105" on the rear for the " F" model and .08" for the "R" model. The low profile fans used have 5.2 CFM using 12V. The fans draw 50 mA each for a maximum of 600 mA on the 12V rail with a completely filled board.

Standard profile fans can be used in place of the low profile ones to provide more air flow per fan. Approximately 8 CFM per fan. The current is higher as well. 5V fans are used in place of 12V ones when the current required approaches 1A. The standard profile fans will require a double wide panel in many cases.

With the 6U board oriented with the VME connector down and the bezel up; the fans are numbered left to right top to bottom. There are 12 positions in an array. 4 per row and 3 rows. For example VME-6U-COOL-F-5678 would have 4 fans installed in the center row and would blow from the solder side to the component side of the "Cool board ". This will have the effect of blowing on the rear of the card in front of the "Cool board". In many cases the R version will be preferred to send air directly on the components of the card behind.



1 year warranty

Quantity discounts available



Ordering Information
VME-6U-COOL-X-123456789ABC
X = R for Reverse => Fan blows to the rear onto the component side of the card behind
X = F for Forward => blow to the front onto the solder side of the card ahead. Default selection when F or R is not specified.


-ND: The daisy chain option connects the Interrupt chain through the slot for systems using vectored interrupts. -ND removes the daisy chain. The default is installed.

In a VME system several of the boards can share an interrupt level. The interrupt and acknowledge signals are passed in and out of each card as a daisy-chain so the cards closer to the system get priority because they are closer to the front of the chain. The signals are blocked if one of the cards does not pass the signals down the chain. When a card responds to the system signals reacting to the interrupt, the card puts a "vector" on the bus to signal the host which card is the interrupter.

Select Fan positions 1-12 [1-C] any quantity can be installed. Remember to allow for recirculation as needed
Standard fans are "Zero Slot"™ 12V 5.2 CFM.


-HV: For higher velocity fans add "-HV" to the end of the part number. 5 or 12 V fans will be used. A standard 4HP front panel will be installed unless the -8HP option is ordered

-8HP: Double wide panel recommended for -HV fan types.





Try before you buy program



Custom, IP, PMC, XMC, PCI, PCIe, VME, VPX, PC104p Hardware, Software designed to your requirements











Home | News | Search the Dynamic Engineering Site