HDEcabl100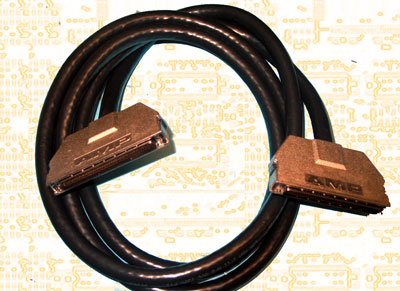 The high density 100 pin "D100" LVDS SCSI II/III connector is being used for purposes in addition to SCSI interfaces because of board and front panel space limitations.
Shielded with 50 twisted pairs suitable for LVDS, RS-422, RS-485 and other signal types. Ideal for single ended transmission with reference ground.
Standard pin-pairs utilzed: 1-51, 2-52 etc.
AMP 749109-7 / 5749109-7 or equivalent cable side connector to mate with [AMP] 787082-9 or equivalent board side connector.
Backshell installed for proper cable strain relief.
Latch block or screw terminal retention.

The cables are stocked in the 3 and 6 foot lengths and are available in custom lengths to OEM customers. Quantity discounts are available.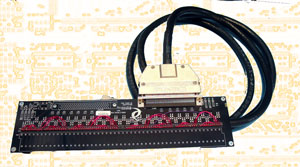 HDECable100 is shown attached to the HDETerm100 terminal block.




Ordering Information
With Latch Blocks
3 ft - HDEcabl100-1
6 ft - HDEcabl100-2






Converter - HDEcable-converter - Our kit turns a latch block connector into a thumbscrew connector on our PMC and related devices: Sold in kits of 4 ea
Custom Cables - Please call or e-mail us

Thumb Screw - 2-56 screw retainer
3 ft - HDEcabl100-1T
6 ft - HDEcabl100-2T
Custom Cables - Please call or e-mail us

SCSI II /customer specified connector

Dynamic Engineering is your source for cables. Please email your specification; we will provide a quote to meet your requirements.

Related Product
HDEterm100 100 position terminal strip to SCSI adapter







Custom, IP, PMC, XMC, PCIe, PCI, cPCI, VME Hardware, Software designed to your requirements











Home | News | Search the Dynamic Engineering Site