S_A_Relay Card
S_A_Relay Front View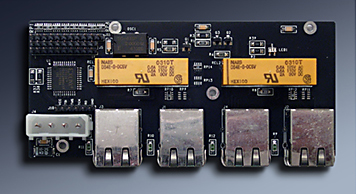 S_A_Relay Rear View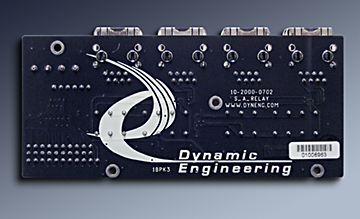 Undetectable active monitoring and data altering of two ethernet (RJ-45) lines.




The Stand Alone Relay accepts a regular PC style power connector that powers two relays. Upon power failure, the relays disengage the two ethernet lines so as to not interrupt communication on the ethernet lines. A CPLD allows for pass through and bypass of Ethernet signals. 10/100 Ethernet compatible. The CPLD is controlled via user input.

The S-A-Relay features:

4 RJ45 connectors

2 dual 5V relays

LED's

2 Mhz reference oscillators (other frequencies available upon request)

10/100 Ethernet compatible

user programmable via the JTAG port for custom projects

Headers are in place for additional control or IO Requirements

Xilinx CPLD programmable with VHDL or schematic using entry level
foundation tool set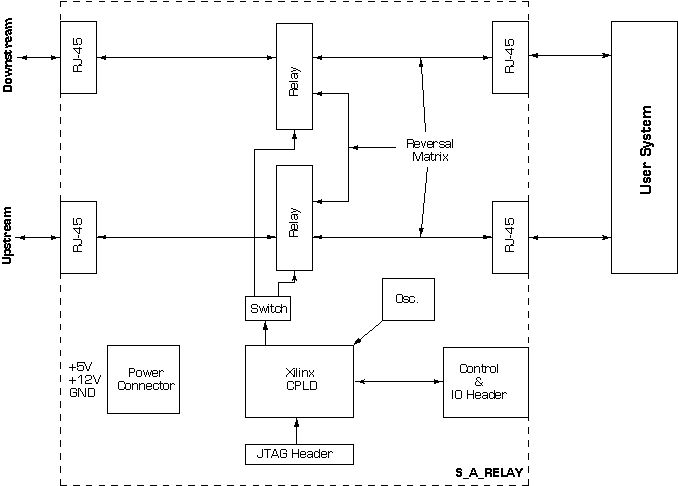 The Stand Alone Relay card uses +5V via a PC style power connector. The CPLD is programmed to set the relays to bypass mode if the power is off, the software enable input is not set, or if Resetn is active. If all conditions are in the operational mode then the relays are switched to pass through mode to allow other hardware access to the ethernet signals.

The s_a_relay has two headers. There are 31 connections from the headers to the CPLD used to control the S_A_Relay card. One of the connections is the pre-defined straight - bipass selection [SW_CNTL]. The local CPU can select the operation with this pin. The second predefined connection is RESETN. The rest of the signals are undefined and can be used to implement user requirments.

If case of loss of power, Reset or deselection the relays are set to the bipass mode so that the input and output ethernet channels are connected and the local host isolated. If the power is valid, the mode is selected and Reset is inactive then the second mode is selected so that the signals are routed through to the host for processing.

The CPLD has plenty of room for modifications in operation and a JTAG header to make the changes easy to implement, either by Dynamic Engineering or onsite by the customer.



You must have Adobe Acrobat to read our PDF files.
S-A-Relay manual PDF
In Stock
Custom, IP, PMC, PC*MIP, PCI, VME Hardware, Software designed to your requirements








Home | News | Search the Dynamic Engineering Site

[an error occurred while processing this directive]