IP-BiSerial-BA4
IndustryPack Compatible Bi-Directional Serial Data Interface







The serial Input and Output channels are highly programmable and fully independent. The standard interface offers Ready, Data, Clock and Strobe. The programmable output rates and a user oscillator position allow for flexible frequency selection. RS422/485 and TTL compatability will interface to a variety of systems. If your situation demands a custom application then we will update the Xilinx FPGA. Send us your timing and we will send you the interface.... email us your wish list or call today!




Customer Special -BA4 Version
You can order these too or request that we design one for you


IP-BiSerial-BA4
The BA4 version of the BiSerial board is used to capture manchester encoded data and to retransmit that data in "uart" compatable form. Unusual design with only the IDPROM implemented on the IP Bus. Manchester data is tested to find the first word of a block then stored into an internal FIFO. The stored data is re-ordered to be lsb first and modified with start and stop bits to create a data stream suitable for UART reception.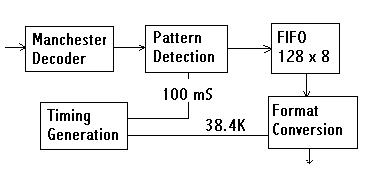 Engineering Kit
IP-BiSerial-ENG..........Engineering Kit for IP-BiSerial BA4 includes Board level Schematics [PDF], Reference Software [PCI3IP, WIN NT, WinRT, Visual C environment - ZIP file], IP-DEBUG-BUS, IP-DEBUG-IO.
Purchase this kit once to support IP-BiSerial and other IndustryPack development

Manual
You must have Adobe Acrobat to read our PDF files.
IP-BiSerial-BA4 Rev A manual PDF.



Try before you buy program

Back to IndustryPack compatible



Custom, IP, PMC, PC*MIP, PCI, VME Hardware, Software designed to your requirements











Home | News | Search the Dynamic Engineering Site





[an error occurred while processing this directive]