IP-BiSerial-BA3
IndustryPack Compatible Bi-Directional Serial Data Interface








The serial Input and Output channels are highly programmable and fully independent. The standard interface offers Ready, Data, Clock and Strobe. The programmable output rates and a user oscillator position allow for flexible frequency selection. RS422/485 and TTL compatability will interface to a variety of systems. If your situation demands a custom application then we will update the Xilinx FPGA. Send us your timing and we will send you the interface.... email us your wish list or call today!

IP-BiSerial-ENG..........Engineering Kit for IP-Xilinx includes Board level Schematics [PDF], Reference Software [PCI3IP, WIN NT, WinRT, Visual C environment - ZIP file], IP-DEBUG-BUS, IP-DEBUG-IO. Purchase this kit once to support IP-BiSerial and other IndustryPack development



Customer Special -BA3 Version
You can order these too or request that we design one for you




IP-BiSerial-BA3
Customer: Boeing
The BA3 version of the BiSerial board has asymetrical transmitter and receiver functions. The transmitter sends data MSB first and uses a strobe the same width as the transmitter data. Data transitions on the rising edge and can be captured on the falling edge of the free-running clock. The transmit timing can be synchronized to the synchronization pulse that is provided. The sync pulse has a period of 2500 uS and a width of 4 uS. Timing diagrams available in the manual. PDF link to the manual at the bottom of this page.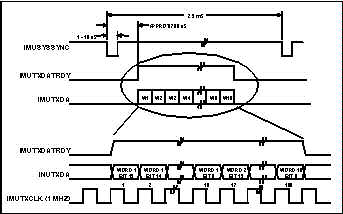 The Receiver expects LSB first data. The data is read in on the falling edge of the clock after Strobe is detected. The strobe is a pulse valid only for the first data bit. The receiver uses a counter to load a user specified number of words of data [1-255]. Input clock detection circuitry automatically switches to an internal reference when the clock is lost. Status is provided. Timing diagrams available in the manual. PDF link to the manual at the bottom of this page.






You must have Adobe Acrobat to read our PDF files.

IP-BiSerial-BA3 Rev A2 manual PDF.


Try before you buy program

Back to IndustryPack compatible



Custom, IP, PMC, PC*MIP, PCI, VME Hardware, Software designed to your requirements











Home | News | Search the Dynamic Engineering Site